Activities - all year round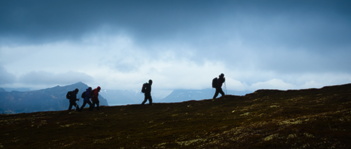 Hiking is the most preferred thing people want to do when they come here. Although the best time to explore the wild landscape is from spring to autumn, it can be also very nice to try a little hike in winter, particularly if there is no or just little snow like last year. You can borrow my maps for your tours for free, as well as get useful tips & hints.
Cycling is another popular activity on Lofoten. Almost flat roads through breathtaking landscape invite you to discover the islands the sporty way. The fresh breeze that always comes from the sea makes the rides a bit more challenging. I've got two trekking bikes that guests may rent for free, together with maps and useful hints for your trips. You'll find some tour recommendations here later.
As you can see in the various pictures on my website, the Lofoten archipelago is a dreamland for those who are into Photography. No matter which time of the year you come: midnight sun during summer or the northern lights in winter – the islands offer countless photo subjects. Guests may rent my tripod for free. Photographers who need hints on photo spots may email my webmaster Christian or visit his website (in german).
Please have a look at our gallery pages, too.
You can rent small fishing vessels in Kabelvåg. Or if you like a rowing boat instead, just ask my friends from "De Grønne Båtan" near Rolvsfjord, at the inner coast of Vestvågøya. You may borrow my fishing gear for free, in case you want to try your luck on Storfjordvatnet. Or just take a fishing pole and walk a few minutes up to the lakes in the mountains nearby.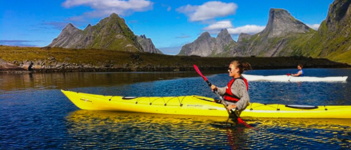 You have just found your perfect home base to go kayaking! Feel free to use my kayaks at any time. The lake behind the house is just ideal: flat and protected from wind. Advanced will find suitable waters in the picturesque Storfjord nearby, or in Valberg, where there are countless little islands in front of the coast.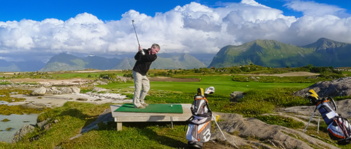 If you like to play Golf you can do it as well here on Lofoten. The most beautiful golf course above the arctic circle can be found on Gimsøya. It's just a 30 minutes drive from my house. A round of golf at the ocean shore during the midnight sun season is a unique addon to your records and a memorable experience. The club house has a café which is open all year.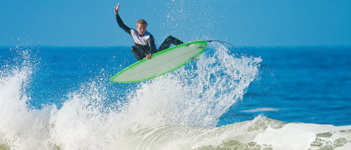 Vestvågøya is known to have some of the best surfing spots in whole Northern Norway. Bring your gear and visit the wonderful beaches at the outer coast, like Unstad and Uttakleiv. You will eperience a steady fresh breeze straight from the sea as well as meet other folks enjoying the same kind of sport. Don't forget a Neoprene suit!
For more information about surfing check out the website Unstad Surfing.
Lofoten islands offer perfect conditions for Kitesurfing almost all year round. No wonder that the 7-times world champion in kitesurfing, Kari Schibevaag, returns here regularly – for her own training or as a guide in kitesurfing camps which are held mainly during summer. The closest good kiting spots are Unstad and Ramberg, both less than a 30 minutes drive from the guesthouse.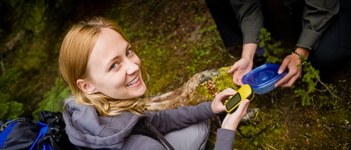 Ever more popular throughout the last years, Geocaching has reached Lofoten. Best to be done during summer, when all the spots are easily reachable. Although most of them are located in the vicinity of Kabelvåg and Svolvær, we also have some really nice caches to be found on Vestvågøya. Perfect activity with children.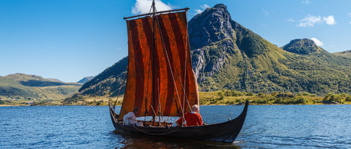 A recommendable thing to do, if the weather is bad, is visiting the handful of museums that are spread over Lofoten. The biggest and best-known is the Viking Museum "Lofotr" in Borg, 15 minutes by car from my house. It has been enlarged during the last years and gives you a comprehensive insight into the life of the ancient vikings.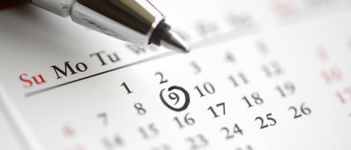 A lot of cultural activities and events are going on throughout the year on Lofoten. If you don't want to miss anything check out the Event Calendar on the official Lofoten Website. Here you can find events and activities of all kinds and, for sure, exactly the one you were looking for.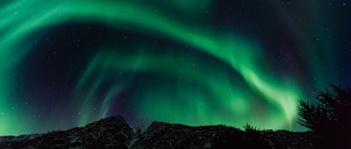 From september till march is usually the best time to watch the Northern lights. Don't miss the opportunity and visit Lofoten in winter. Provided, the weather allows it, you can see a natural phenomen that you'll never forget.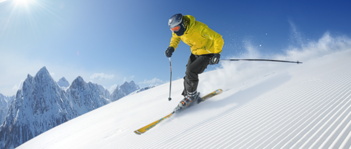 Downhill skiing with sea view – a unique combination. Could there be any more perfect place than Lofoten? Extreme downhill skiing has become very popular and you will find challenging routes all over the archipelago. We also have 2 illuminated downhill slopes with lifts: one in Stamsund, just a 5 minutes drive from my house, and another one in Svolvaer. Skiing guides can also be arranged.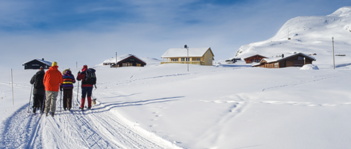 Visitors who dont't care for steep slopes may rather prefer Cross-country skiing through the beautiful winter scenery. There are some prepared and partly illuminated tracks near Leknes, but apart from that you can choose any type of terrain. Actually, you can start cross-country / mountain skiing direct from my doorstep. There is a route up to Hagskaret and into to the mountain areas on both sides of the road. Skiing guides can also be arranged.
Have you ever tried to go on Snowshoe hikes? You can start right at the guesthouse. Rent a pair of snowshoes and walk trough the flat mountain range in the vicinity. Furthermore I can give you recommendations for scenic routes of all difficulty levels and may even arrange a guide for your tours.